Ever since the face of songstress Sister Derby's new boyfriend dropped online folks have compared him to Medikal with many claiming they both share a striking resemblance.
Recently gospel musician Sonnie Badu also expressed that David and Medikal actually look alike.
A Takoradi based YFM station shared Sonnie Badu's thought on the striking resemblkance between Medikal and David.
This annoyed Rapper Medikal who has asked all Ghanaians to move on an allow his name to rest because it has been quiet a long time now since he and Sister Deborah broke up.
"It's been like how many years now? Y'all no dey fi move on? Smfh. Let my name rest small abeg", he wrote while reacting to comments of he and David looking alike.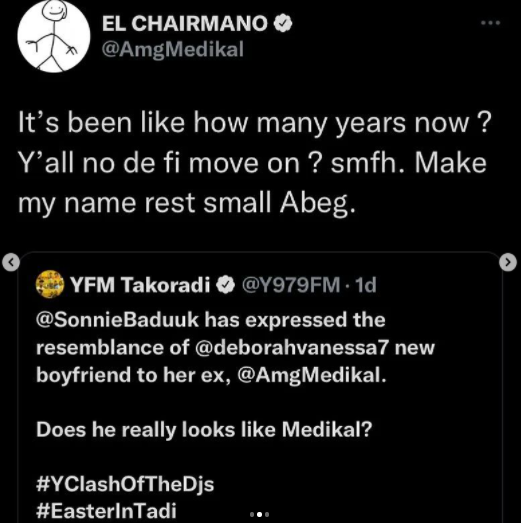 This didn't sit well with some fans who have fired Medikal and have also rated David beyond him.
According to some social media folks, David is way handsome than Medikal.
SEE SCREENSHOTS BELOW: