One of the most respected celebrity couple, Banky Wellington and his wife Adesua Etomi have taken to social media to celebrate each other as well as their fourth marriage annivery.
Banky who is excited that he will be spending forever with his beautiful wife described her as his song, rhyme, heart, muse, light and everything.
You're my song, my rhymes, my heart, my light, my muse, my melody, my everything, my Wife.
He added that for the rest of his life he will continue to write about his wife only.
Adesua who is also happy to have married the man of her dreams also confessed that her husband will always be the favourite part of her.
SEE SCREENSHOTS BELOW: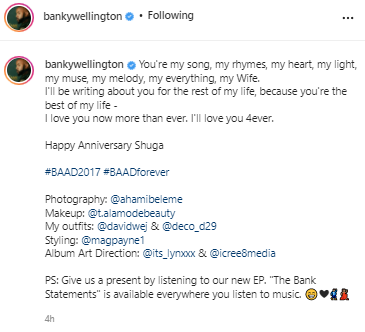 WATCH MORE VIDEOS ON OUR CHANNELS: