Information reaching our outfit from the world of soccer indicates that Inter Milan's Romelu Lukaku has been named as theoverall best MVP of Serie A after going all out to help Inter Milan win the title for the first time after and over a decade.
Romelu Lukaku, scored 30 goals across Serie A, the UEFA Champions League, and the Coppa Italia with 11 additional assist as Antonio Conte's men finished Juventus' stranglehold on the homegrown scene.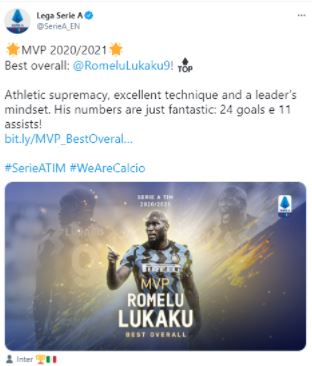 Romelu Lukaku likewise came next after Cristiano Ronaldo as the best forward in the Italian league.
Goalkeeper, Gianluigi Donnarumma was equally crowned best goalkeeper after keeping 14 clean sheets while the top defender award went to Atalanta's Cristian Romero. Nicolo Barella got the best midfielder award joining his Inter colleague Lukaku on the list.