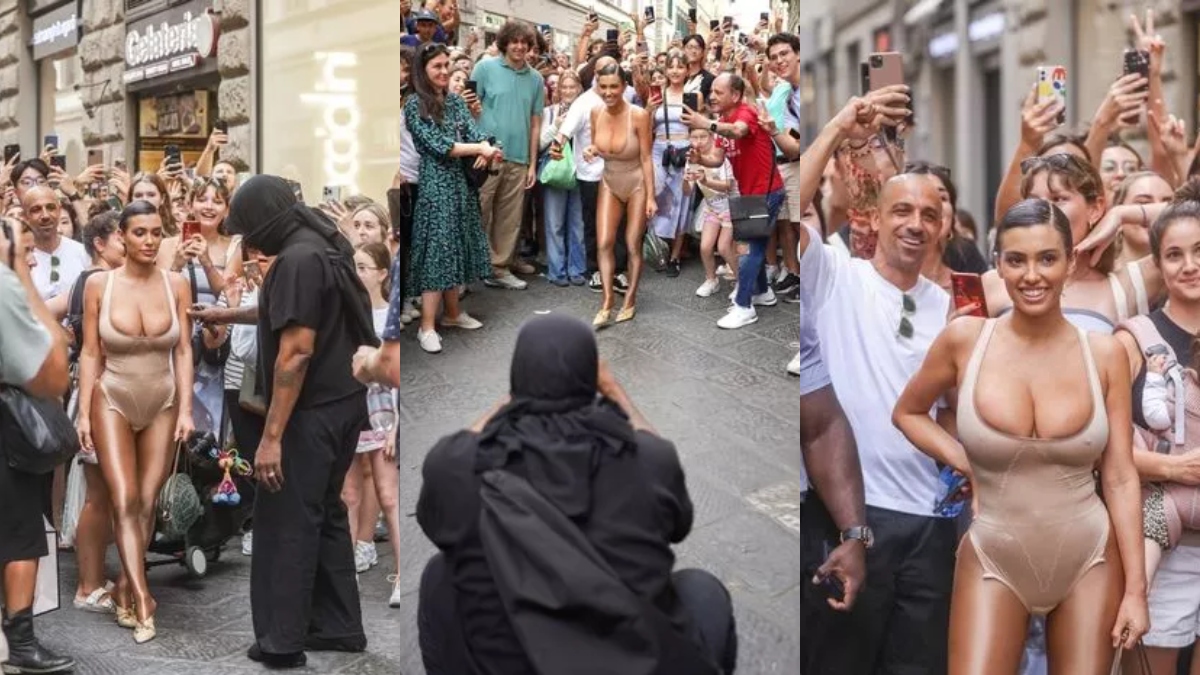 Kanye West 's wife Bianca Censori was spotted wearing one of her most shocking outfits yet following angry backlash from Italian locals who called for the celebrity to be punished by police after numerous barely-there outfit choices.
Kanye and Bianca became the centre of attention as they went shopping in the bustling Via Calzaiuoli in Florence, with fans quickly recognising the famous duo, which sparked a frenzy among the crowd. Not missing a beat, Kanye took photos of Bianca, who wore a revealing outfit resembling a nude swimsuit showcasing a significant amount of cleavage.
In the snaps, the rapper was seen in an all-black outfit and a scarf wrapped around his face as he bent down on the ground to capture the perfect angle of his wife in front of a cheering crowd. Bianca was all smiles as she posed with her hand on her hip in front of an enormous group of fans on the street throwing their hands up in the air around the stunning 28-year-old model.
Bianca paired her risque plunging nude body suit with shiny tights and small pointed nude kitten heels. She wore no jewellery to distract from her daring outfit choice and had her short brunette locks slicked back. Bianca opted for a natural makeup look for the occasion with brown eyeshadow and a nude lipstick.
Inside the store, the couple were seen picking up and admiring a unique Braccialini handbag known as "Handbag Temi" which is a metal piece featuring a fret-worked sun design adorned with rhinestones. The buzz around the pair never died down highlighting their star power.
Bianca's wild outfit is just one of the many barely-there outfits the Yeezy architect has been sporting during her trip in Italy with her husband. In recent weeks, Bianca was also spotted wearing a nude-coloured catsuit as she clutched a purple pillow to hide her chest.
As Bianca continues to push the boundaries of fashion many have been trying to understand the motivations behind her racy outfits with comedian Kathy Griffin taking to TikTok sharing her theory that the rapper is "emotionally controlling" his wife and encouraging her to wear revealing clothing. Kathy goes on to say that Bianca is an intelligent woman but seems to have no voice of her own.