A throwback tweet of President Nana Akufo-Addo prior to the 2016 election talking about how the prices of fuel had increased making drivers to struggle in paying for fuels and insurance premiums have gone viral.
In the tweet, the then New Patriotic Party (NPP) candidate wrote; I have seen how drivers both private and commercial, struggle to pay for the high prices of fuel and insurance premiums.
Apparently the President was condemning the John Mahama administration at the time over the spike in fuel prices under his leadership.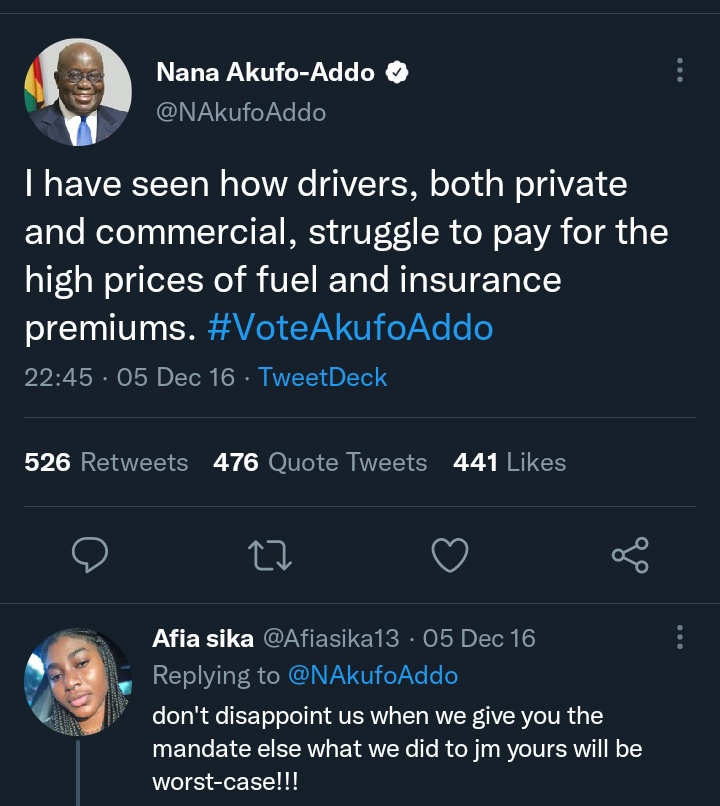 Fast forward in 2021 fuel prices have increased exponentially resulting in a sit-down strike that has lead to many commuters being stranded n various bus terminals across the country.
Meanwhile the GPRTU has called off the strike action by its members which began from Monday morning 6th December 2021 following a call from the Presidency to engage in a dialogue on the fuel prices.
WATCH VIDEOS ON OUR CHANNELS BELOW: