A Senior Lecturer with the University of Ghana Political Science Department, Professor Ransford Gyampo has lamented over the poor state of Ghana's Tema Motorway.
According to him Government collects toll money from vehicles that ply the road yet the Tema motorway is in bad shape.
In a Facebook post he couldn't fathom why citizens and residents pay toll money yet major roads in the country doesn't get fixed.
"The motor-way has developed potholes and there are no street lights. Yet road tolls are collected everyday. Why won't people evade payment of such tolls. Make it exciting for us to pay by ensuring well motorable roads. Sometimes its just a small patch." he wrote.
Apparently the motor-way and many major roads in the country are in bad shape.
SEE POST BELOW: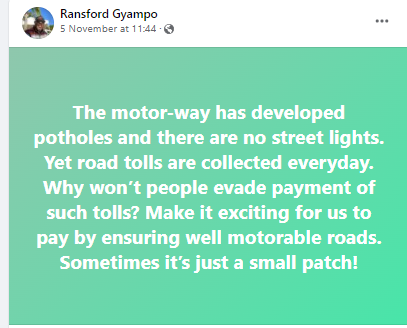 WATCH MORE TRENDING VIDEOS BELOW: