Notwithstanding the positive outcome, the match didn't end well for Osimhen as he was manhandled, and he has now spoken on the matter, requesting that fans on Twitter help in the battle against racism.
He took to the microblogging platform and tweeted saying;
"Speak to your kids, your parents, make them understand how disgusting it is to hate an individual because of the colour of their skin. No to racism."
Checkout the screenshot below;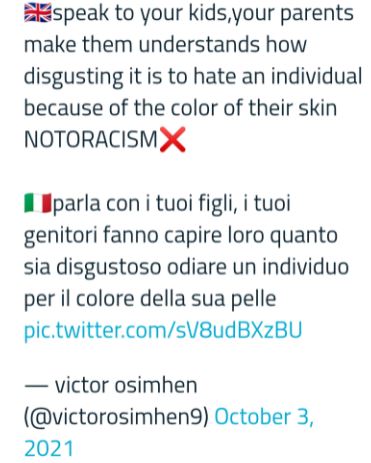 In other news, legendary Manchester United player, Gary Neville has also responded to Cristiano Ronaldo's choice to storm down the tunnel following Manchester United's awful draw with Everton.
Cristiano Ronaldo began Saturday's 1-1 draw at Old Trafford among the substitutes and guess what, he could not move the team to win the game when presented during the subsequent half. At the last whistle, the former Real Madrid and Juventus star looked apparently irate as he stomped off the pitch and went directly to the changing area mumbling to himself and shaking his head.
Gary Neville believes Ronaldo's choice is an indication of disappointment and needs head coach Ole Gunnar Solskjaer to address Ronaldo to keep his annoyance in secret in future.
This is what Gary Neville had to say on Sky Sports;
"I watched him walk off and I can't say I like it. Is Cristiano upset when he doesn't play? Yes. Is Cristiano upset when he doesn't score? Yes. Is Cristiano annoyed as hell when tyhe team don't win? Of course. We know those things. He doesn't have to prove that.
He walked off the pitch muttering to himself, which throws the question up in the air, what's he saying? Who is he annoyed with? It can only come back to the manager. Actions like that and Cristiano is smart enough to know this will bring real pressure on the manager, more pressure than Ole Gunnar Solskjaer is already under.
I tthink that is something that just has to be managed in the next couple of months. Cristiano is not always going to score, he's maybe not going to play every single game. But I think if he walks off like that, it's going to put immense pressure on Solskjaer. There's no doubt the talk after the game was about the manager.
He has this collection of players but they haven't got this style of play, they haven't got this or that. He didn't pick Ronaldo."