Metro TV newscaster, Bridget Otoo has been burglarized after armed looters raged her shop and fired gunshots during the scary operation.
Bridget Otoo who has been operating some cement shops while away at work received a shocking news with regards to her business. In an episode yesterday, September 29, 2021 some yet-to-be identified armed robbers assaulted one of her shops and and made away with the days sales.
Bridget took to the microblogging platform and broke the news saying;
"Two guys on a bike fired two warning shots and pulled the gun on my shop attendant and took the morning's cash sales of 500 cedis. She's safe but visibly shaken. I don't know what I would have told her parents if sth had happened to her.
I was at the main shop, and I asked a friend to move his car to the other shop, At this point I knew it was armed robbery. I just told my friend to bring my shop attendant. I couldn't care if they had taken cement in the shop or whatever physical cash she on her.
The armed robbers made away with her phone. The interesting thing is that shop is supposed to be a cashless shop. The only customer who never pays cash, decided to pay cash today and that money was picked by the robbers. Strange coincidences.
Attached are comments from my neighbours when I posted the story on my whatsapp. But the story I can't get over is the couple who were locked in and set ablaze by the assailant. They are in a hospital at the moment, the wife has not been able to utter a word since the attack.
Checkout her tweet below;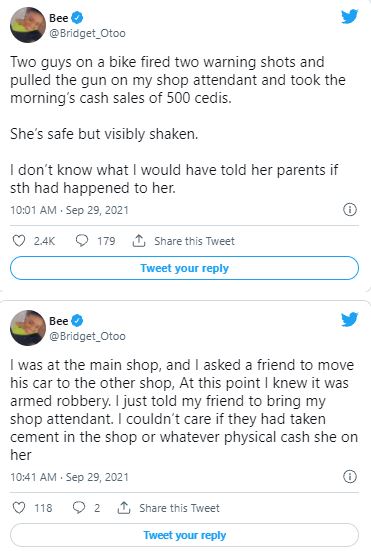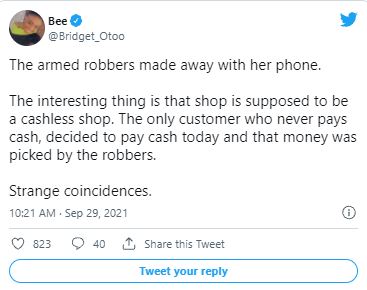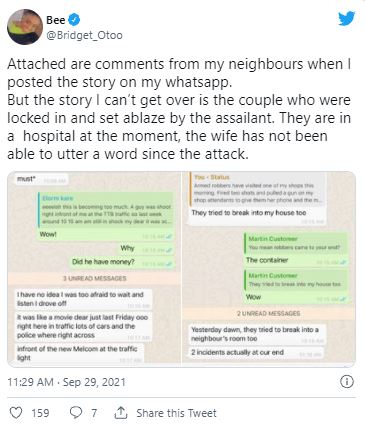 Not many hours after her report on Twitter, she revealed that Ghana's IGP rung her to just to follow up on the whole robbery case;
Wow! THANK YOU to the IGP and ACP KWASI FORI !!! Thank you to the mobile patrol teams Not just me but to every Ghanaian, I want everyone to feel safe to go about doing their business without fear. For that, I'm grateful….
I appreciate the call & his commitment to rooting out crime in the city & country as a whole. I've had regional commanders of the Tema and Greater Accra also reach out to me. Crime officers have also taken details and are currently investigating the incident #NewsNight #Security
she added; Indeed there is a new wind blowing within the Ghana police service than what we were used to. Should you be a victim of any crime or suspect a crime might be taking place, please do not hesitate to contact crime fighters numbers 18555 or 191 for emergencies. #NewsNight #Security"
Checkout the screenshot below;